Donald Trump to Louis DeJoy:
Please Mister Postman, look and see
If you can help subvert demo-cra-cy
Mail's been taking such a long time
Keep it up and the elction is mine.
There can be no other wayyyy-
If I lose I'll get locked away.
Please Mister Postman, please help me
Stop folks from voting absen-tee!
(Mike Thompson USA TODAY Network)
"Please Mr. Postman" – written by Georgia Dobbins, William Garrett, Freddie Gorman, and Brian Holland – is a popular song first released in 1961 by The Marvelettes
The song is notable for being the first Motown song to reach the number-one position on the both the Billboard Hot 100 pop & Billboard R&B charts
Well-known covers of "Please Mr. Postman" include The Carpenters (1975) and The Beatles (1963):
Please Mister Postman (Remastered 2009)
In view of the swirling controversy surrounding Louis DeJoy, — the 75th United States Postmaster General — TrumpVirus contributor D. A. Buckna has felt inspired to deliver "Please Mister Postman" for Trump times.
But first, view the following two videos as an introduction to Louis DeJoy – another in a long line of Trump's "best people":
Meet Postmaster General Louis DeJoy: The Man At The Center of the USPS Controversy
Who Is Postmaster General Louis DeJoy? | NBC News NOW
From Wikipedia:
"After congressional protests, the USPS inspector general began a review of DeJoy's policy changes and whether he was complying with federal ethics rules. On August 18, 2020, DeJoy announced that the Postal Service would suspend cost-cutting and other operational changes until after the 2020 election. He later clarified that equipment that had already been removed would not be restored."
And now, for your parody pleasure, TrumpVirus presents:
Please Mister Postman 2.0
(Wait!)
Oh yes, wait a minute, Mister Postman
(Wait!)
Wait, Mister Postman
(Mr. Postman, look and see)
Oh yeah
(Any life-saving medications for me?)
Please, please Mister Postman
(I've been waiting a long, long time)
Oh yeah!
(Since requesting that ballot of mine)
There must be some word today
Our street mailbox was taken away
Please, Mister Postman look and see
If there's a parcel, a parcel for me
I've been sitting here waiting, Mister Postman
So patiently
For just a card or just a notice
DeJoy owes us an apology
Please, Mister Postman!
(Mister Postman, look and see)
Oh yeah!
(Is there a doctor's prescription for me?)
Please, please, Mister Postman
(I've been waiting a long, long time)
Oh yeah!
(That security check is mine)
DeJoy removed sorting machines
Saying they're "not needed" is obscene
Louie was hired to make Trump feel better
Slowing down every parcel and letter
Mister Postman!
(Mister Postman, look and see)
Look and see
If there's a letter, oh yeah, for me
(Is there a letter for me)
I've been waiting such a long time
DeJoy says he hasn't cut overtime
You gotta wait a minute, wait a minute, oh yeah!
(Mister Postman)
Wait a minute, wait a minute, oh yeah!
(Mister Postman)
Wait a minute, wait a minute, oh yeah!
(Mister Postman)
Check it and see
One more time for me
You gotta wait a minute, wait a minute, oh yeah!
(Mister Postman)
Wait a minute, wait a minute, oh yeah!
(Mister Postman)
Mister Postman
(Wait a minute, wait a minute)
Oh yeah
(Mister Postman)
DeJoy, return mail sorters
So wait time shorter
You gotta wait a minute, wait a minute, oh yeah
(Mister Postman)
Wait a minute, wait a minute, oh yeah
You gotta wait a minute, wait a minute, oh yeah
There's no joy in DeJoy
He struck out with his ploy
You gotta wait a minute, wait a minute, oh yeah
(Mister Postman)
Wait a minute, wait a minute, oh yeah
You gotta wait a minute, wait a minute, oh yeah…
Gotta wait a minute, wait a minute…
---
More info:
The Beatles – Please Mr. Postman [Mono] (With The Beatles)
Please Mr. Postman – The Marvelettes
Please Mr. Postman – 1991 Remix
Postal Workers' Union Chief Reacts To Louis DeJoy's Testimony | Craig Melvin | MSNBC
Louis DeJoy: There Is 'No Intention' To Return Removed Mail Sorting Machines | Craig Melvin | MSNBC
DeJoy: "Since my arrival we removed 700 uh, 700 post… uh, collection boxes, of which I had no idea, uh… that that was a process…"
Louis DeJoy Plays DUMB During Hearing
FULL: Postmaster General Louis DeJoy Testifies At Senate Hearing | NBC News
"Trump has been at war with the United States Post Office for years, but his latest actions are far more devious. He is using his executive power to destroy a popular institution, undermine the will of the people and rig an election." — Rob Rogers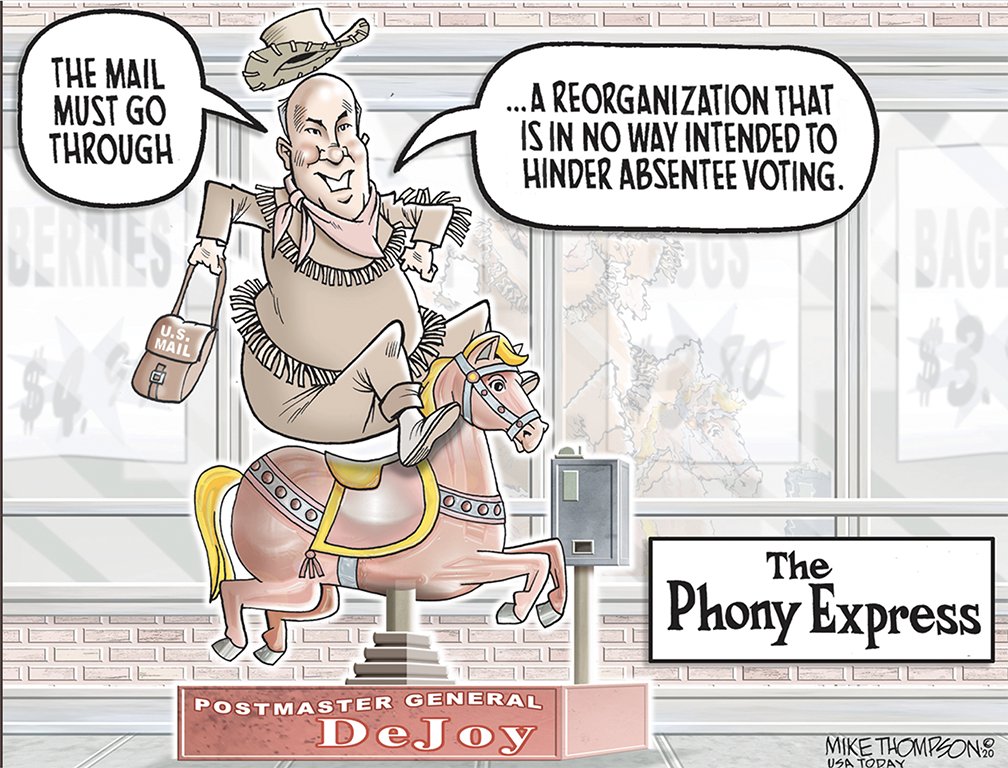 Louis DeJoy acts like someone who thinks: "These people have no right to question me."
Rep. Porter grills the Postmaster General (Aug. 24, 2020)
Arrest This Scary Gentleman | A Tale of the Postmaster (Parody Project)
---
#TrumpVirus #TrumpVirusOrg #LouisDeJoy #PleaseMisterPostman #PleaseMrPostman #DonaldTrump